Remy Amador Presas
Grandmaster and Father of Modern Arnis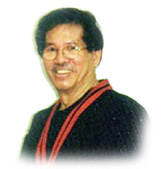 The grandmaster and father of Modern Arnis, Prof. Remy Amador Presas, was born in Hinigaran, Negros Occidental on December 19, 1936 to Jose B. Presas and the former Lucia Amador. At an early age, Remy already became dedicated to sports through the inspiration of his grandfather who was also a lover of sports. From the age of 6, Remy was already learning the fundamentals of "kali", or Arnis, using finely carved wooden canes shaped like swords or daggers. When he was 14, he travelled to the different cities in the neighboring island provinces of Cebu, Panay, Bohol, and Leyte, where he furthered his athletic career. In Cebu, he studied Arnis under Rodolfo Moncal, and later under Timoteo Marranga and Venancio Bacon, all Cebuano experts in Arnis. Under their tutelage, Remy mastered Arnis and the "Balintawak" style of stick fencing. Through his association with Arnis experts and renowned athletes in the different parts of the country, Remy further enhanced his skill and ability in sports. Remy became an expert in Arnis by the time he returned to Hinigaran. Not only that, he was also an expert other martial arts like judo, jiu-jitsu, wrestling and karate. He set up a gymnasium in Bacolod, Negros Occidental, and proceeded to develop hundreds of young people not only in sports but also in appreciating their cultural heritage.
Remy had a bachelor's degree in education major in physical education. He taught physical education (with emphasis on Arnis) at De La Salle College, and later at the University of Negros Occidental-Recoletos. In 1968, Remy received an offer to spread Arnis in Manila. According to his wife and family, it was a difficult decision for him to make, but he took it for the sake of his dream to make arnis well-known not only in his province but throughout the Philippines. It was an opportunity to heighten national appreciation of this precious Filipino martial art. Not only that, it would be the stepping stone towards bringing it to the awareness of the whole world. Thus he took the challenge. In 1969, he brought his family to Manila and established a gymnasium in the heart of the commercial district. He founded the National Amateur Karate Organization (NAKO) and Modern Arnis Federation of the Philippines (MAFP). He also taught in various universities and colleges in Manila.
Remy also founded the Modern Arnis Federation of the Philippines. His numerious activites (all done for free) attracted more and more people to the art and brought Arnis to the consciousness of every martial art enthusiast. He trained the different AFP units and police agencies in the Philippines in Arnis. By this time, Arnis had also become a popular sport for friendly competition between clubs. In 1970 Remy traveled to Japan and introduced Arnis to the Itago Police Academy, earning the admiration of the Japanese Police authorities. He also travelled extensively to the US to give demonstration in American martial art clubs.
After 27 years of research and practice of the art, Remy published a book wherein he combined the early styles and classical techniques of Arnis with its modern innovations. Thus the art of Modern Arnis. But Remy's dream for the art and for his people surpassed all his personal achievements. He wanted to make an international sport out of Arnis. He wanted the world to know of this indigenous Filipino martial art that can surpass the martial art they already know. He stayed for many years in America and Canada in propagation of Modern Arnis.
During the years between 1997 – 2001, Prof. Remy Presas returned several times to the Philippines to establish the New Modern Arnis Club of the Philippines, which later became the International Modern Arnis Federation Philippines (IMAFP). During this time, he sought to renew ties with his former students and colleagues. More importantly, he used the rare and precious time during these visits to teach new students and develop them into new leaders.
Grandmaster Remy Presas gave future generations of Filipinos a major reason to be proud of their heritage and identity. Because of his dedication, lifetime work and achievement, the Filipino people were able to recover a significant part of their cultural heritage, perhaps the most valuable part for it had served them in the struggle for freedom over the centuries. Through Remy Presas, the Filipino people were able to revive the practice of this art, and continue to develop it as their very own contribution to world heritage.
Grandmaster Remy A. Presas passed away due to heart failure and severe internal infection on August 28, 2001 at Parkwood Home Care in Victoria, Canada. Reverend Father Bernard Hanley (Sacred Heart of Jesus Parish) officiated his catholic memorial in Victoria, Canada on September 6, 2001. His remains arrived in Manila, Philippines on September 19, 2001. He received a posthumous award for the propagation of Filipino Martial Arts worldwide from PIGSSAI / Philippine Tourism Authority. On September 23, 2001, his body was flown to Bacolod City, Negros Occidental, Philippines. He was laid to rest on September 25, 2001 in the town of Hinigaran, his birthplace.